Welcome to Memphis Stage Rental, the #1 stage company in Memphis & the Mid-South!
Our stages are so well maintained and look so good, they don't have to be covered! Try that elsewhere! Virtually ANY SIZE, small to L A R G E !!!
We build stages for all kinds of applications: Band Stages, Concert Stages, Children's Stages, Choir Risers, Modeling Runways, Review Stands, Special Event Stages, school program stages, Stage Extensions, Rounded Stages, Multi-tiered Stages, Special Design Stages, and Disabled Access Stages (ADA), Ramps, and Rails ! And more!
Need some ideas? Check out the stage pictures on our Memphis Stage Rental Picture Gallery page.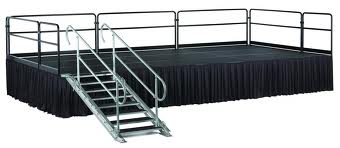 We can erect stages in most any size, from 4" tall up to 4' tall. The benefit of our stage is its versatility, providing options for stages across curbs, on slopes, over bushes, and otherwise uneven ground. Our staging remains flat and level across obstacles and variations. The stage feet are made of "no-mark" rubber and safe for gym floors.
Do you need a multi-level design? No problem. Special Shapes? We can do that, too.
Call: 901.861.0500
or send us an email
We build stages throughout the city of Memphis and the Mid-South region: Arkansas, Mississippi, Missouri, Alabama, Texas, and even coast to coast! We also offer hydraulic portable stages, better know as mobile stages. Click here for more information about Mobile Stages.
If your're looking for staging accessories, such as stage skirting, stairs, carpeting, back-drops, click here. If you need more production, such as a sound system, lighting, power generator, or other services, click here for information on our production packages, where we can save you time, headache, and money!